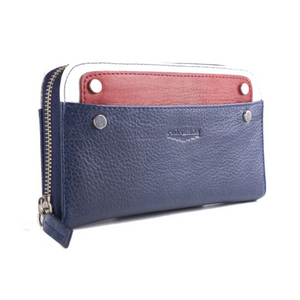 Description

Details

Delivery
Product Code: 315
Shop Our Beautifully Soft Leather Purse with Contrasting Colours - Stylish, Spacious, and Secure
Indulge in the luxury of our beautifully soft leather purse, meticulously crafted with contrasting colours to make a bold and stylish statement. This purse offers not only exquisite aesthetics but also ample room for your cards, notes, and receipts, along with a convenient zipped coin section.
The soft leather used in this purse is a delight to touch, providing a luxurious and comfortable experience every time you handle it. The contrasting colours add an element of visual interest, making this purse a true standout accessory.
With ample room for your cards, notes, and receipts, this purse ensures you stay organized and prepared for any financial transaction. Say goodbye to cluttered wallets and hello to a tidy and efficient storage solution for your essentials.
The zipped coin section provides a secure and practical space for your loose change, keeping it separate and easily accessible. No more searching for coins at the bottom of your bag or struggling to find exact change.
The three-tone leather design adds a sophisticated touch to this purse. These colours have been carefully chosen to complement our range of leather bags, allowing you to effortlessly coordinate your accessories.
Shop now and experience the beauty, functionality, and security of our soft leather purse with contrasting colours.  Elevate your style with this stunning and practical purse that perfectly complements our leather bags.
Size: w19.5 x h10 x d2.5cm
Each leather product is individually made in our workshop. Slight markings and imperfections might appear, however we believe this makes each piece unique.
UK Delivery is FREE for orders over £100.
UK Standard delivery (Royal Mail 2nd Class post): £4.95
UK First Class delivery (Royal Mail 1st Class post): £6.50
European delivery: £12.95
International delivery (excluding Europe): £14.95

All International shipping options use 'tracked' services where possible. If you require a UK tracked or Express service, or you have placed an order for more than 2 Belts (or equivalent size/weight) for non-UK delivery, please contact us at info@pioneros.co.uk for more shipping information.
Please telephone to arrange UK Special Delivery or International Express tracked services