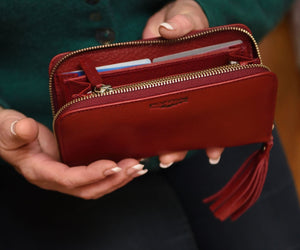 Description

Details

Delivery
Product Code: 313
Shop Our Beautifully Soft Leather Purse with Matching Tassel - Stylish and Functional
Indulge in the luxury of our beautifully soft leather purse, designed to add a touch of elegance to your everyday essentials. This purse combines exquisite craftsmanship with practicality, ensuring you have ample room for your cards, notes, and receipts.
Crafted from supple leather, this purse offers a delightful tactile experience and showcases the highest level of quality. The softness of the leather adds a luxurious feel to your everyday interactions.
Featuring a matching tassel on the zip, this purse exudes a stylish flair that catches the eye. The tassel serves as a charming detail that complements the overall design, creating a cohesive and sophisticated look.
With ample room for your cards, notes, and receipts, this purse keeps you organized and ready for any financial transaction. No more searching for loose coins or struggling to find the right card - everything has its designated place.
The zipped coin section provides a secure and convenient storage solution for your loose change. Say goodbye to jingling pockets and hello to a tidy and organized purse.
The colours of this purse are thoughtfully selected to complement our leather bags, allowing you to create a cohesive and coordinated ensemble. Mix and match with our collection to elevate your style and showcase your impeccable taste.
Shop now and experience the beauty and functionality of our soft leather purse with a matching tassel. Enhance your accessories collection with this stunning and practical purse today.
Size: w19 x h10.5 x d2.5cm
Each leather product is individually made in our workshop. Slight markings and imperfections might appear, however we believe this makes each piece unique.
UK Delivery is FREE for orders over £100.
UK Standard delivery (Royal Mail 2nd Class post): £4.95
UK First Class delivery (Royal Mail 1st Class post): £6.50
European delivery: £12.95
International delivery (excluding Europe): £14.95

All International shipping options use 'tracked' services where possible. If you require a UK tracked or Express service, or you have placed an order for more than 2 Belts (or equivalent size/weight) for non-UK delivery, please contact us at info@pioneros.co.uk for more shipping information.
Please telephone to arrange UK Special Delivery or International Express tracked services